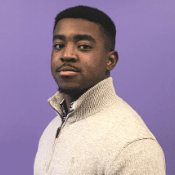 1. What drew you to NeighborWorks Capital? What excites you about working in affordable housing?
In applying for the position, I was exploring the NC website when I found the 5-year strategic plan. As I was reading through it, I could sense something exciting was happening here. I wanted to be a part of a forward thinking and growing organization within the CDFI space, and NC's goals over the coming years display not only a commitment to their work but most importantly to their borrowers. I am excited about working in affordable housing because of the importance of building and forging relationships between all stakeholders involved. I am looking forward to learning how to build and maintain such relationships so that we can come to the best solution.
2. What are some professional highlights you are most proud of?
Being that this is my first full-time job, I would say that this is my proudest professional highlight. After graduating a semester early from college, I am very fortunate to have found a job so soon that fits my career interests and offers such a great place to learn. I love telling people where I work because I am very proud of the work that we do.
3. What do you like to do outside of work?
I enjoy reading and exercising. I like to read two books simultaneously: either a novel or book of poetry and an academic or theoretical work. I am currently reading Infinite Jest by David Foster Wallace and am deciding on what theoretical work to read next. I also enjoy Formula 1 racing, and I'm a big, but sad, Redskins fan.
4. What do you like best about your new colleagues?
My new colleagues are great communicators. I am working with both the Finance and Portfolio Management teams, and with these split responsibilities, it's helpful to see how well they already work together and see the ways in which I can contribute and add value to their operations. There is a lot of trust between each team member and an understanding of everyone's workload; with that comes the need for people who are selfless, willing, and eager to help in any ways they can, and the entire organization is made up of people who are just like that.