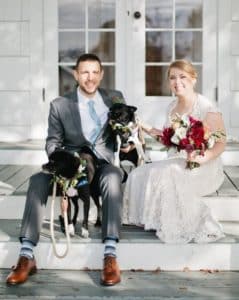 We are excited to welcome our new Portfolio Manager, Jarrod Brennet (pictured with his wife and dogs), who joined the team this month after serving as a Project Manager at SOME, Inc. (So Others Might Eat) in Washington, DC, where he managed the design, financing, and construction of the organization's affordable housing projects. Jarrod has an MA in Community Development and Planning and BA in Sociology with a concentration in Urban Development and Social Change, both from Clark University.
What excites you about joining NeighborWorks Capital?
NeighborWorks Capital provides the opportunity to work with and learn from a wide range of mission driven affordable housing organizations across the country. I'm excited to see the many different development and operational models that our borrowers utilize to better their communities. As someone who has spent their career focusing on affordable housing within a very specific geography, I'm thrilled to be able to broaden my horizons while using my experience to do help organizations achieve their goals.
What is a special moment or accomplishment from your career you'd like to share?
I'm extremely proud of the many accomplishments that we achieved during my time at SOME. As a grassroots nonprofit organization with a very small Housing Development team, every day presented a unique challenge; overcoming all of the obstacles that we faced to provide housing to extremely low-income individuals and families was an incredibly rewarding experience. The most special moments were when Projects reached completion and residents received the keys to their homes on the first day of move-ins. The joy and gratefulness that these families and individuals expressed was humbling and a feeling that I'll never forget.
What do you like to do for fun? (Or, perhaps a more apt question these days is: what is your favorite activity while homebound?)
I'm a true hobbyist at heart and am constantly looking for new interests to explore. I love running, cooking, baking, and playing music. While at home these days, I spend most of my time watching movies with my wife and two dogs.