A place to Gather, Enjoy, and Eat in West Baltimore
When families in West Baltimore want to sit down and enjoy a meal together at a nice restaurant, they're forced to travel outside of their community just to find a place. The neighborhood, with more than 100,000 residents, doesn't have a quality restaurant where families can sit-down and enjoy dinner together. Communities like West Baltimore face racial and economic barriers to accessing opportunities that other communities enjoy.
NHS of Baltimore works to remove these barriers and provide opportunities through homeownership creation and preservation, and through their community development work. Their latest economic development project is The Mill on North, a food hall that will provide a much-needed variety of dining options to residents of West Baltimore.
"Everything that we do at NHS of Baltimore flows out of what we believe – that economic and social justice is a right for all people and communities," said Dan Ellis, Executive Director of NHS of Baltimore.
NHS of Baltimore's community development work began following the death of Freddie Gray in 2015 and is part of their response to the event that happened in Baltimore. The Mill on North is located 1/2 mile from where Freddie Gray went to school and in the community where he grew up.
The Mill on North is part of a large community development initiative that has been in the works since 2016. NHS of Baltimore partnered with Coppin Heights CDC and Osprey Property Company to buy a former lumber yard next to Coppin State University to redevelop. The group secured $3 million in grants to clean up and improve the site, and they were able to use LITHC to develop 65 new affordable apartments named Walbrook Mill. A Truist Bank branch moved into street-level retail space in 2019, leaving 7,500 sq. ft. left to fill.
NHS of Baltimore knew they needed to add quality commercial space to create vibrancy in the community. They reached out to community members for ideas and received a resounding response. 
"We want a place to eat with our family."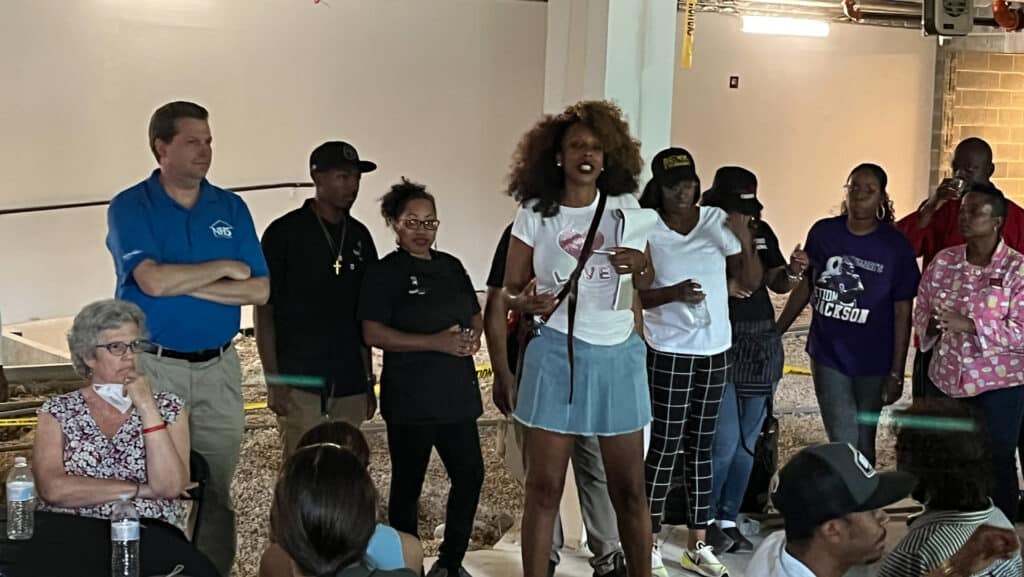 NHS of Baltimore talked to restaurant owners who lived in West Baltimore but owned and operated their restaurants in other places. They all had the same issue – there were no quality commercial spaces in the area. NHS of Baltimore began thinking through ideas. They could divide their space and have room for three or four restaurants, but the cost to open a restaurant with only raw space can be up to $500,000 per restaurant. For most small entrepreneurs in the area, the cost was simply out of reach.
To create a space that would work for local restauranteurs, they finally settled on a food hall – a large communal dining space filled with a variety of local restaurants. Food halls are typically more cost effective for restaurant owners. The group set out to build and create the food hall. While the pandemic stalled progress in 2020 they were able to restart their efforts in the summer of 2021 and will be open in the fall of 2022.
The food hall, now called The Mill on North, is a 50/50 partnership between NHS of Baltimore and Coppin Heights CDC. Local ownership is important to the partners because they're focused on building something that works for the community. They were also intentional about lowering the cost of entry for vendors, and they achieved this by providing things like specialized hoods and sinks that can be costly expenses.
"It's about West Baltimore people doing things for West Baltimore. It was important to us to really make this work well for the vendors," said Ellis.
When NHS of Baltimore set out to finance the project, they knew traditional banks were not an option. A food hall does not fit into "the box" that banks want. The team had to get creative and think differently to find the right partner to approach. That led them to CDFIs, including NeighborWorks Capital and the Neighborhood Impact Investment Fund (NIIF), a local Baltimore-based CDFI. NeighborWorks Capital and NIIF worked together to fund a $1.5 million loan ($750,000 each) for the build-out of The Mill on North, along with $2.4 million of local and state grants.
The $3.9 million total cost includes building construction expenses and additional financial support for the vendors. NHS of Baltimore doesn't hide the fact that a lot of additional support is needed for the vendors, and they don't apologize for it. For their team, it's about achieving the goal of their community development work: to remove barriers. Sometimes those barriers are financial, and sometimes its skill based, like learning how to create a business plan. Whatever barriers the vendors face, NHS of Baltimore is there to offer guidance and support.
Slated to open in late 2022, the Mill on North will include six vendors, a bar, and seating for 125 people. The vendors are all minority-owned and each has a connection to West Baltimore.