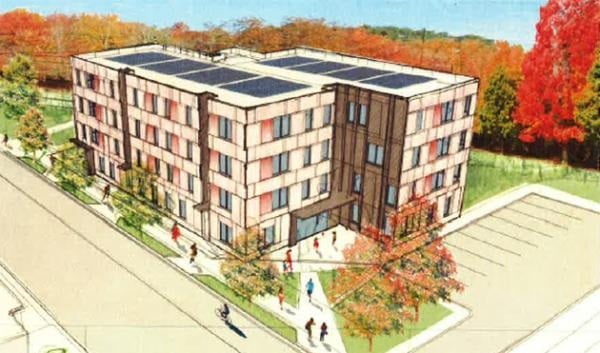 Repeat customer Codman Square Neighborhood Development Corporation (CSNDC) initially requested a $250,000 predevelopment loan for its latest development, which will provide 42 much-needed affordable apartments in the Dorchester neighborhood of Boston facing rapid rent growth.
When CSNDC realized that the low-cost funding they anticipated to refinance maturing acquisition debt would not be available by the end of 2019, they reached out to NeighborWorks Capital. The $685,000 acquisition loan will refinance the existing acquisition loan.
"It's great to have this partnership, to know that when we do need additional resources to get through the project, we can always go to NeighborWorks Capital to help see us through," said Dominica Man, Director of Real Estate Development & Asset Management at CSDNC.
Adjusting to COVID-19 "Stay at Home" Order
Everyone is adjusting to Massachusetts' "stay at home" order during the COVID-19 pandemic, Man said. "CSNDC has worked tirelessly with its property management agent to ensure the safety of residents and staff. Resident service staff continue to check in on residents via phone or virtual meetings." 
In addition, CSNDC is providing updated materials to the residents as soon as they receive them from the city and the state, as well as meal, food, financial assistance from the local communities and City of Boston. 
"Real estate developments have certainly been affected.  This poses many challenges for projects that are currently in construction," Man said.
Talbot Commons II Highlights
Talbot Commons II features an affordability mix from 30-60 percent, including 12 one-bedrooms, 20 two-bedrooms, and 10 three-bedrooms. There will be 19 apartments at Spencer and Talbot Streets, and 23 apartments walking distance away on New England Avenue, adjacent to the new Talbot Station on the MBTA commuter rail, providing a fast, direct link to downtown Boston, good for commuting workers.
"This site is very close to transportation, an attractive location to develop affordable homes for individuals in low- to moderate- income who won't have to rely on cars with public transportation close by," said Man.
High-Impact Neighborhood Work
The project continues CSNDC's high-impact work in Dorchester, and has strong support from the city, where there is very high demand for rent-restricted apartments. CSNDC has a 99% occupancy rate, and city-wide the occupancy rate for affordable apartments is 98.2%.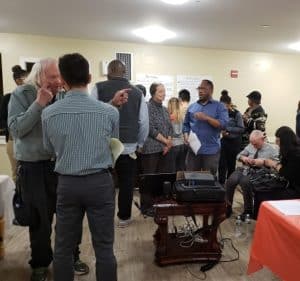 A recent CSNDC Talbot Bernard Senior Homes resident meeting.
"The primary goal of our work in Dorchester is that families can stay in the city and not be pushed out to find more affordable housing. We are mission-driven," said Man.
CSNDC's mission focuses on creating is for families or individuals with 30-60% AMI, to help stop displacement of families pushed out due to skyrocketing rents out of proportion with median income for a family of four.  
South Dorchester, where Talbot Commons II is located, is one of those neighborhoods: a primarily low-income neighborhood whose residents were driven further from Boston because of high housing prices. The neighborhood was formerly industrial, then became dilapidated. Many of the sites are city-owned.
Codman has developed many other projects nearby. Directly across from the Talbot Commons II site is current construction, one of 15 affordable apartments, the other of 15 for-sale homes.
ABOUT CSNDC
For 25 years, Codman Square Neighborhood Development Corporation (CSNDC) has been a very local and high-impact organization working south of Boston. As well as their history of impact, CSNDC has an ambitious project pipeline, with several affordable apartment homes in development and construction. They also provide a long list of services and programs to their residents, which include computer learning, financial literacy, job boards, youth development, as well as economic, real estate, and green development.