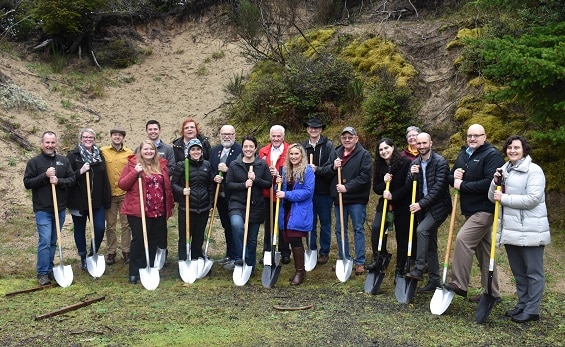 To help fulfill the great need for single-family construction in rural Oregon, we provided DevNW a $3 million loan for 18 new homes in two locations 80 miles apart.
The organization broke ground in January for its FloGrove development; the name is a combination of the two locations, Cottage Grove and Florence, Oregon. The homes will cater to families below 80 percent AMI ($51,900 for a family of four) and includes 1-, 2-, and 3-bedroom homes. Construction is progressing quickly.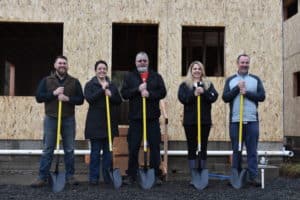 This is the organization's first big project after last year's merger of two organizations, Willamette Neighborhood Housing Services and Neighborhood Economic Development Corporation, and an opportunity that might not have been available three years ago. Then, Oregon passed the Lift Act, which helps fund home ownership projects. DevNW was among the first cohort of applicants, one of the largest projects to receive funding – and due to stringent funding criteria, one of the few projects to make it to construction. The projects have seen much support from the cities.
"It was quite a feat to get FloGrove fully funded," said Erin Dey, Director of Real Estate Development for DevNW. "NeighborWorks Capital was a big part of that process."
When their original construction lender got cold feet mid-stream, DevNW needed to find a new one quickly.
"When we first started, this project was risky, new, and innovative, because it was a new funding source. NeighborWorks Capital got behind the project and was willing to work with us. We were definitely a team throughout the process," Dey said.
Dey cited NeighborWorks Capital's flexibility, understanding, and solution-oriented approach, as well as flexible timing working with different funding sources to help ensure everyone benefited, including the future homeowners.
In addition, Dey said, "We were able to work together advocating at critical points to get things moving when things looked like they were getting a little stuck, which was really helpful."
NeighborWorks Capital previously worked with Willamette Neighborhood Housing Services on two separate loans.
"For FloGrove, we are filling the gap where traditional banks aren't able to, and there's little other capital available," said Adam Coile, Senior Portfolio Manager for NeighborWorks Capital. "One loan for two projects covering multiple jurisdictions, with construction in two different cities is unique for us."
Understanding the dual nature of this loan was key for NeighborWorks Capital; there were almost separate underwritings for each project, which have the same company and construction company.
"It's rare, but it shows our flexibility to adapt to an organization's needs for their own strategic goals. In this case, they're doing 18 homes at once. To do one home at a time wouldn't be as impactful. We were able to accommodate that by structuring one loan, supporting DevNW's new goals and strategies from the ground floor," Coile said.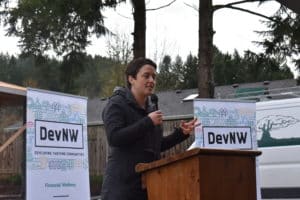 Developing in rural areas, particularly home ownership opportunities, is a DevNW and state mission. Lack of available land for development and a shortage of affordable owner-occupied homes has put pressure on home prices. For example, Florence is a historic riverfront town along the central Oregon coast whose primary industry is shipping and tourism. Cottage Grove is about 22 miles south of Eugene and attracts tourists and outdoor enthusiasts. Both are home to low-income and workforce families, and many buyers are purchasing their first house; others are people aging in place who are being priced out of their current homes, or single-parent families. In the month since DevNW has begun pre-selling the homes, they've gotten four times the applicants as they do available homes.
"There are families who want to make the leap to home ownership and have done all the steps to support it, but there's no market because home prices are increasing faster than wages," Dey said. "The impact is huge because there's no supply. Nothing is being built like FloGrove in rural communities."
Another unique aspect to this project is that both developments are on community land trusts, vacant lands in the middle of existing single-family residential neighborhoods. Every home built on this land comes with a 99-year lease, which limits to who they can be sold to, keeping them affordable for the next century. DevNW will remain the owner/manager of the land trust.
About DevNW
DevNW was formed when Willamette Neighborhood Housing Services and Neighborhood Economic Development Corporation officially merged at the beginning of 2019. The merger followed two years of due diligence, planning, and support from partners, funders, boards, and staff, with the goal of doing more of what each organization does, and better. Helping families to build assets, improve neighborhoods, and create healthy communities are complex, multi-faceted efforts that aim to address significant, intractable social issues like wealth inequality, and equally longstanding economic issues, like the current home affordability crisis. Through a merger, DevNW achieves the scale needed to develop and implement comprehensive approaches that better address these issues. DevNW currently has two additional Community Land Trust projects in their pipeline, along with multifamily and other single-family homes.