Permanent lending capital is part of the bank's total commitment of $40 million. 
On August 30, 2022, NeighborWorks Capital received its largest investment, a $25 million facility from Charles Schwab Bank to fund permanent multifamily loans. One year later, NeighborWorks Capital is pleased to report that 90% of the facility has been utilized and $22 million of long-term, fixed-rate permanent financing has been deployed to members of the NeighborWorks network. The funding will allow these community-based nonprofit organizations to preserve, maintain, and improve 750 affordable homes.  

Mutual Housing of Greater Hartford

utilized permanent financing to acquire a 10-unit affordable housing property in New Britain, CT. The funding ensures that the property remains affordable to residents of New Britain. 

 

Neighborhood Development Services

(NDS) received funding to support the preservation of affordable single-family rentals in Ohio. NDS utilized low-income housing tax credit (LIHTC) financing in 2005 to develop Ashtabula Homes II, a 40-home scattered site rental development. With a new, 15-year, fully amortizing loan, NDS could refinance the original permanent lenders from the LIHTC financing and make necessary improvements to the properties so residents could remain in their homes at an affordable rate. NDS also utilizes funds to support Prospect House, 66 apartments in Ravenna, OH. The affordable rate funding will allow NDS to keep the apartments affordable for low- and very low-income seniors in the area.

 

Gulf Coast Housing Partnership

received two loans to develop and improve affordable housing in Montgomery, AL. The permanent funding will support Country Club Estates, a 62-unit affordable housing development for seniors, and Virginia Meadows, 168 apartments for low-income housing for families. 

 

Homeport

utilized the funding to refinance an existing permanent loan on a property exiting its 15-year LIHTC compliance period. The new mortgage loan has a much lower interest rate, allowing Homeport to apply additional cash flow to supportive services for the 48 families living there.

 

Community Resources and Housing Development Corporation

(CRHDC) received funding that has allowed the organization to expand its geographic impact and keep naturally occurring affordable housing in southern Colorado. CRHDC used the funds to acquire 46 affordable apartment units and preserve an additional 64 naturally occurring affordable apartments in Alamosa, CO.

 

Rocky Mountain Communities

(RMC) used the funds to support Meeker Commons, a key element of affordable housing in Greeley, CO. Their new 10-year permanent loan will repay existing bank and redevelopment agency financing and allow the city of Greeley to invest in other new affordable developments. The loan allows Meeker Commons to provide 104 units of housing that will remain affordable for the community.

Nevada HAND

received funding to support repairs and improvements to Stewart Pines, a 72-unit affordable apartment development for low-income seniors in Las Vegas, Nevada.

Thistle Community Housing

received funding to support Fairways Apartments, a 70-unit rental property in Boulder, CO. The loan repays existing permanent debt and will fund maintenance repairs to the property.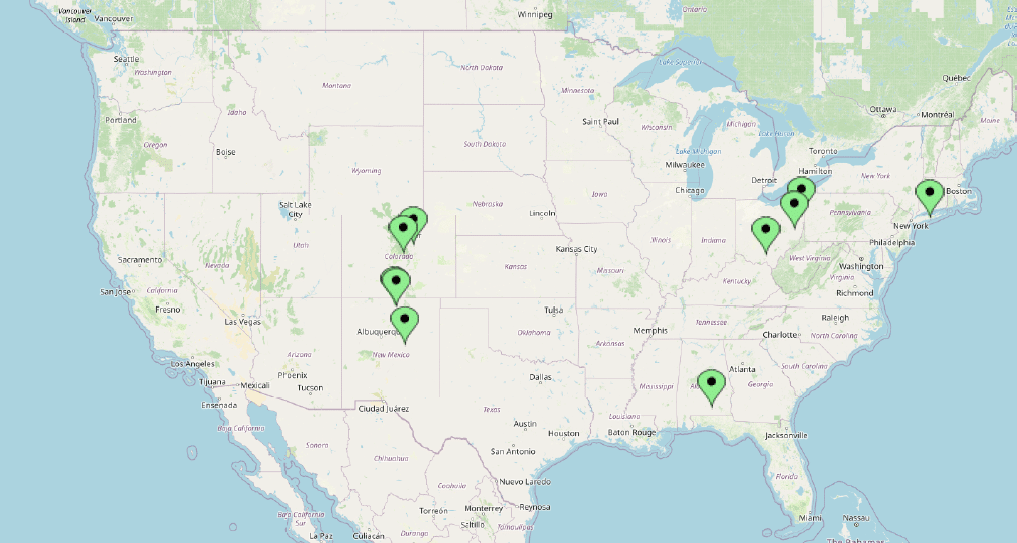 The loan fund focused on financing properties in Texas, California, Nevada, Utah, Colorado, Arizona, New Mexico, Oklahoma, Louisiana, and Alaska. Properties in other states were also considered.
In addition to the permanent loan fund, Charles Schwab Bank has extended a $15 million line of credit to NeighborWorks Capital. "With a total investment commitment of $40 million, Charles Schwab Bank is NeighborWorks Capital's largest investor, and their support allows us to deliver on our mission effectively and efficiently," said Matt Glatting, Chief Financial Officer for NeighborWorks Capital. "This facility allows us to provide long-term capital at a significant scale and achieve impact that would otherwise not be possible. NeighborWorks Capital has historically provided short-term financing solutions, and this funding fills a gap in resources by allowing us to provide much-needed long-term, fixed-rate financing for affordable housing development," he said. 
"At Charles Schwab Bank we believe when our communities are strong, our whole society is stronger. After nearly a decade of catalyzing impact capital alongside NeighborWorks Capital, we've enabled more affordable housing to help address pressing housing insecurity issues like displacement," said Neha Shah, Director, Head of Community Development Lending for Charles Schwab Bank. "We are proud to capitalize NeighborWorks Capital's innovative permanent loan fund, helping acquire and preserve high-quality affordable rental housing close to jobs, good schools, and other community resources," she said.  
NeighborWorks Capital exclusively serves the 247 members of the NeighborWorks network by facilitating capital access and financing all aspects of affordable housing development. When impact investors partner with NeighborWorks Capital, their investments support strong community-based nonprofits doing the work residents need and desire. It's an opportunity for impact investors to deploy funds to support community-driven change nationwide. For more information about NeighborWorks Capital, visit: https://neighborworkscapital.org/about-us/.